Watch Vostok Europe – Ekranoplan – NH35A-546H515
Ekranoplan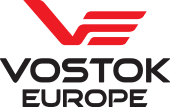 The Caspian Sea Monster Ekranoplan KM (Ground Effect Vehicle) – the biggest this type vehicle ever designed still holding the record for lifting the heaviest load off the ground.
It still holds the record for lifting the heaviest load off the ground (more even than the largest modern cargo plane Antonov An 225 "Mriya" can handle) and had an air of mystery around it for a long time, tested in secrecy on the Caspian Sea from 1966 to 1980 years.
Watch Vostok Europe represent an unprecedented alliance of Eastern European and Russiantimekeeping. By combining the watch-producing team in Vilnius, Lithuania with the largest Russianwatch manufacturer Vostok the result is a unique fusion of tradition, innovation and cost-effective style.
Specifications NH35A-546H515
– Stainless Steel / Titanium watch case
– Water resistance – up to 200 meters
– Diameter 47 mm; thickness – 16 mm
– Screw-in crown and case back
– K1 crystal with anti-reflective coating– Automatic Seiko NH35
– 21 tritium tubes on the dial and hands: 4 Hairlights (ultra-thin and ultra-bright tritium tubes)
– One hour and minute (2 pcs. on each) hands 1 hairlight on the second hand.
– 16 tubes on the dial ring mounted in reflectors
– Every watch comes with custom-made leather or integrated silicon strap.
– All straps have heavy-duty buckles fixed on the strap by 2-mm stem on two bolts.
Movement: SII NH35A Automatic